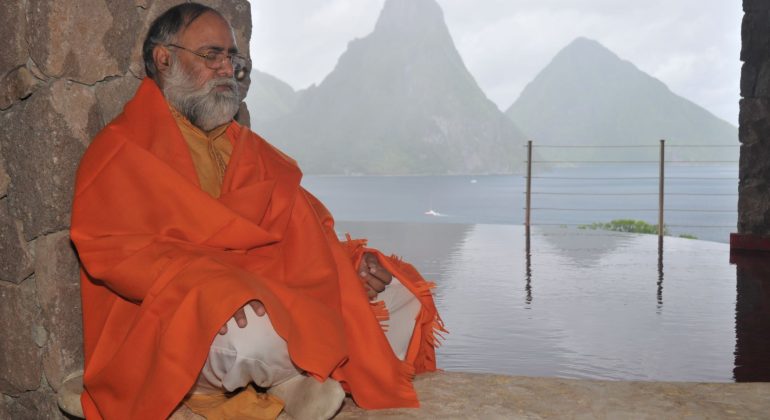 In his own divine play Gurudev showers his blessings on an agrieved person how does he do so no one knows. And also no one can know about it. Many times, Gurudev has shown divine grace and unveiled secrets. I was once a serious patient of asthama. I got treatment from many doctors but was not cured. Then one day I prayed to Gurudev "Please give me such a medicine, that I may be free from this painful condition." Gurudev answered "You will be given medicine after a few days. "However, even after a few days the medicine was not given. In a few days the curtain was raised from Gurudev's divine grace. I felt that I was completely getting normal. Actually, Gurudev was curing him without any medicine.
Once there was severe pain my mother's right hand. Such severe pain that even slight movement of the hand was unbearable. When she was very restless with the pain suddenly Gurudev's call came. When I prayed to Gurudev about my mother's condition, Gurudev said, "You meet me in the evening, I will give you medicine."
I went to meet Gurudev in the evening. I had discussions with Gurudev till late night, but forgot to ask about my mother's medicine and returned back home.
The next day mother told him that the pain of her hand had gone. When he told Gurudev about this on the phone, Gurudev said "God has given your mother the medicine. God has cured her." Surprisingly after that my mother never had the pain in her hand again.
Similarly, my wife used to have severe headaches. Many a time he prayed to Gurudev regarding this. However, every time giving some reason or the other Gurudev said "Your wife's medicine is prepared and is kept, I will give it to you at the right time."
After few days in New Delhi in Patel Nagar in a Studio the programme's shooting was to be held. Before the shooting started Gurudev told Shri Varmajee "A well-known film actor has been calling up continuously for the last few days. In today's recording ask about him. He is in great trouble." Gurudev further said, "In today's edition of Hindustan Times there is an article on him. You get the newspaper, gum bottle and scissors. We will remove his photo from the paper."
According to Gurudev's order I gave the newspaper, gum bottle and scissors to Gurudev. With the help of scissors Gurudev removed the picture of actor and from a heap of photographs kept in front of him, he picked up the photo of a young lady and stuck that picture on it and then with the scissor started cutting the photo. Seeing this I immediately said, "With great feelings this girl had sent her photo to you to seek blessings, but now her photo is being cut. "To this, Gurudev stopped cutting the photograph and said "You have not done this right. Actually, I had imposed on this girl's photograph your wife's trouble, but I was actually cutting your wife's trouble. Now because of your saying this, the action has stopped. May be the time has not yet arrived for your wife's trouble to be cleared."
A few days after this incident my wife's headache, completely disappeared. At that time, I had an opportunity to go to Pune with Gurudev. There, after his prayers Gurudev said, "Is now your wife's headache alright "I said "Yes, your blessings are there. She has completely recovered from her headache."
One incident occurred at Ayodhya on 26th – 27th September 2003 when the 13th Prabhu Kripa Samagam was organised there. After the Samagam was over, my health started deterioting. Cough and cold had increased and I had slight fever also.
Gurudev had made a programme to visit Ayodhya. According to Gurudev's order I sat in his car. Seeing his condition, Gurudev said, "Your condition is getting worse, come on, it does not matter. God will shower his blessings."
At Shri Ram Janam Bhoomi both Gurudev & I got down from the car. It was slightly drizzling there. I opened the umbrella. Suddenly it started raining heavily. At that moment Gurudev said "You keep the umbrella away, get wet and run". Saying this even Gurudev ran.
Surprisingly my condition became normal. Then the programme was to go to Lucknow from Ayodhya. While travelling in the car Gurudev said "After setting your things in the room, in the hotel, the first thing you do is to find out Poonja Babajee's place is. He has been a great yogi. He has been a disciple of Maharishi Raman, the spiritual Guru. For many years along with him, I have practised meditation. He has left for heavenly abode but his family still lives somewhere in Lucknow. I will go to meet them."
The next day Gurudev reached there with some sevadars. The members of Poonja Baba's family gave a whole hearted welcome. After staying there for some time, Gurudev observed the activities of the Ashram very minutely. Seeing the arrangements there, Gurudev asked me to make similar arrangements at Dhaam.
After returning back to the hotel room my condition started getting worse. I started chanting the Beej Mantras which were given by Gurudev and walked towards Gurudev's room.
Gurudev was alone in the room. After touching his feet, I told him "Gurudev, I am realising my mistake that I have not obeyed your order. You, please bless me." In a serious tone Gurudev said, "I know it. You go, God will bless".
After this I came back to my room, but my condition was not completely normal, yet.
The next day Gurudev and Gurumaa left for Delhi by the flight. After giving them farewell at the airport, I sat in a car to go to Delhi. After travelling continuously, the whole night I reached Delhi in the morning. On the way, in the beginning my health was bad for some time but gradually it started getting normal.