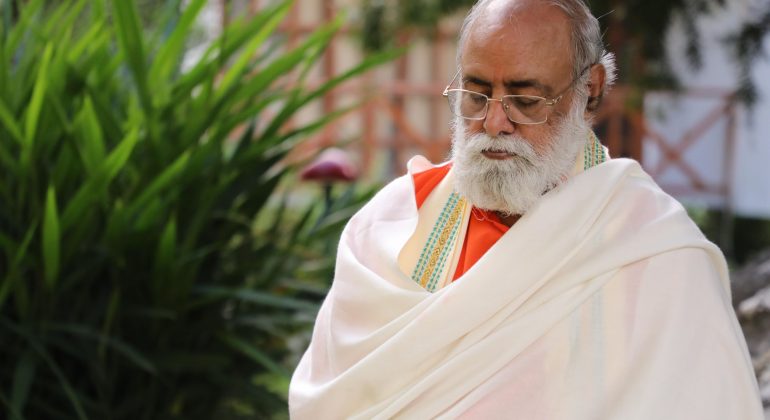 Once Gurudev said, "The source of our energy and strength is Vrindavan." This is entirely true because you blossom to every pore when you reach there." To gather strength often, the instructions from Gurudev is ''Let us go to Vrindavan''. Devotees then go towards Vrindavan.
On that holy soil once a Divine incident occured. The camera team had gone there for the purpose of shooting. All were staying at Balaji Ashram. Gurudev's room was on the first floor and others were staying on the second floor.
In the morning all were busy talking and getting ready to go to Keshav Sarovar for shooting and Gurudev was doing prayers in his room. Suddenly while laughing at something, Shri Sushil Verma Ji started coughing badly, after which he became unconscious. Everyone got worried.
The make up man immediately ran to Gurudev's room. Gurudev was praying. The make up man saw that the small prayer lamp (deepak) was not burning. He told Gurudev about Verma Ji 's condition. Gurudev simply said, "That is why the prayer deepak is not burning. I am coming now, do not worry."  
After some time Gurudev came to ask about Verma Ji 's well being. Verma Ji had become normal before the make up man came back.
The people assembled there told Verma Ji that his whole body had become stiff sometime back and his hands and mouth were let open. First his body became red and then it turned pale. Verma Ji was feeling little giddy now and was lying on the bed. After a while he vomitted a bit, then felt fresh and healthy.  
By then all started moving towards Keshav Saravor. That place was really beautiful. Gurudev gave the instruction that an appropriate place be selected and cameras be set up and he would come shortly.
After the set was ready for shooting, they started waiting ror Gurudev's arrival. It was quite late and there was no intimation of his arrival. It started drizzling. Everyone's restlessness increased. That very moment Gurudev's persoanl driver came running. He was very worried, panting heavily, he said, "Gurudev's condition is very serious, he is lying unconscious in a temple close by." Seeing the scene, everyone was stunned.  
In the compound of the temple, Gurudev was lying in unconscious state on a very old and broken bench. Not only his kurta (shirt), pyjama (pants) but also some parts of his body were covered with muddy water. When Gurudev was called, he slowly opened his eyes and then asked for newly washed clothes from his car. The driver immediately ran and brought the clothes from the car. Gurudev wore them slowly and let his old clothes there. By then it had started raining heavily.
Gurudev gave the message to call his wife (Guruma) from Delhi and ask her to immediately light the deepak in his prayer room. After that he gave the message to the Camera team that all will take parikrama (circumambulation) of Giriraj Ji while sitting in the car and then we would all return to Balaji Ashram.
At that time Gurudev's condition was so serious that he could not get up easily. With great difficulty he reached his car and completed the parikrama of Giriraj Ji, every one came back to Balaji's Ashram.
By then Gurudev's condition was getting worse. He was continuously vomitting. Under Gurudev's instruction, Gurumaa was called from Delhi. Slowly Gurudev's condition started improving and he started becoming normal.
Later Gurudev revealed the secret to Verma Ji saying, " You had died, that is why deepak had exstinguished. At that time I prayed to God that God should put me in your condition. I only had to say so much, that your life came back. You became completely normal. God's grace was such that when I told you to set the camera at Keshav Sarovar and I went to enjoy the nature, I felt very giddy. I tried to take the support of a rock, but I could not control myself and fell in the muddy water. There I was lying unconscious for quite sometime. God's grace was such that gradually I got my conscious back. Slowly I got up and walking slowly, I reached the temple and lay on a bench in the compound. Now there is nothing to worry. I will become alright by tomorrow. Prayer to God will take away my troubles." 
Gurudev's words proved to be true. The next day, after the prayers, Gurudev was looking completely healthy. This was the divine grace of Gurudev